After a day at the beach, you're sure to get hungry! While all of our vacation rentals are equipped with excellent kitchens, we think that dining out is one of the best parts of a vacation. Not only is indulging in local cuisine a great way to learn about the area, it also lets you kick back and relax while you enjoy a delicious meal. Here are some of our favorite Isle of Palms restaurants to dine at during your getaway!
If you want to discover more ways to make the most of your Charleston beach trip, be sure to access our complimentary VACATION GUIDE! It's full of other great local restaurants plus the best shopping, things to do, and more in the Lowcountry.
You'll Love These 6 Isle of Palms Restaurants!
Below, you'll find some of the best Isle of Palms restaurants. They are all sure to satisfy your crazings, but Charleston is known as a culinary epicenter. If you choose to branch outside of Isle of Palms, there are amazing restaurants in Shem Creek, Sullivan's Island, Folly Beach, and Downtown Charleston.
1. Long Island Cafe
The combination of an amazing menu and elegant, coastal decor make Long Island Cafe one of the best Isle of Palms restaurants by far. It has been cooking up unbelievable seafood, chicken, and fresh pasta dishes since 1986. Browse the menu, and don't forget to check out their specials! They change every day and will keep you coming back over and over again. Our last tip is to make sure you save room for dessert. Indulge in decadent cakes, pies, and even warm bread pudding.
Local Tip: They have an incredible wine selection so be sure to ask your server what pairs best with your dinner. They can get busy on the weekend, so you might want to make a reservation in advance.
2. Acme Lowcountry Kitchen
For seafood with a Southern flare, head to Acme Lowcountry Kitchen. The goal of this establishment is to keep things upscale yet casual– everyone is welcome! The menu is full of fresh, local ingredients and sustainable seafood. They specialize in shrimp and grits, a Lowcountry classic, with at least six different homemade variations!
Local Tip: Their servings are large so make sure you show up hungry! They fill up quickly, so we recommend making a reservation at least a few days in advance to ensure you don't miss out on this delicious spot.
3. Papi's Taqueria
If you're craving some delicious tacos, head to Papi's Taqueria. Apart from the kids' menu, you'll only find starters, sides, tacos, drinks, and one dessert on their menu. They keep it small, so they can focus on what they do best: make tacos. Start out with some chips and dip; then, study the menu for which tacos you're going to order. They have a few permanent options as well as daily taco specials.
Local Tip: If you have some vegetarians in your group, their Gotta Go Gringo taco gives you the choice of black beans or grilled veggies. It's sure to satisfy even the meat-eaters.
4. Coda Del Pesce
Coda Del Pesce makes an excellent date night or celebration dinner with the family. This Isle of Palms restaurant serves delicious Italian seafood dishes prepared with fresh, locally or sustainably caught seafood. Enjoy homemade pasta, gnocchi, and more with a coastal twist! They also offer some of the best oceanfront restaurants on IOP.
Local Tip: You'll need to book your reservation at least a week in advance or more during the summer. If you're wanting to eat outside, you'll have to book several weeks in advance.
5. Sea Biscuit Cafe
If you're looking for one of the best Isle of Palms restaurants for an excellent breakfast spot, head to Sea Biscuit Cafe! Here, you'll find everything from classic breakfast dishes to Lowcountry specialties. We recommend their omelets, French toast, and of course, the biscuits. It's the perfect place to fuel up before heading out for a day of fun! It's the perfect place to start a beach day full of activities on Isle of Palms.
Local Tip: This restaurant is cash only, so make sure you visit the ATM outside first.
6. The Windjammer
Also known as a local music venue and a hot spot for Lowcountry events, The Windjammer is practically a landmark on Isle of Palms. It's a great place to grab a casual bite of bar fare and sit on their large deck overlooking the Atlantic with a cold drink. Their fried pickles and wings are favorites among locals.
Local Tip: When it comes to nightlife, The Windjammer always has some going on. Be sure to check out their events page for great live music and unique local events. Because of some events, dinner may not be available that day.
Book Your Foodie Vacation Today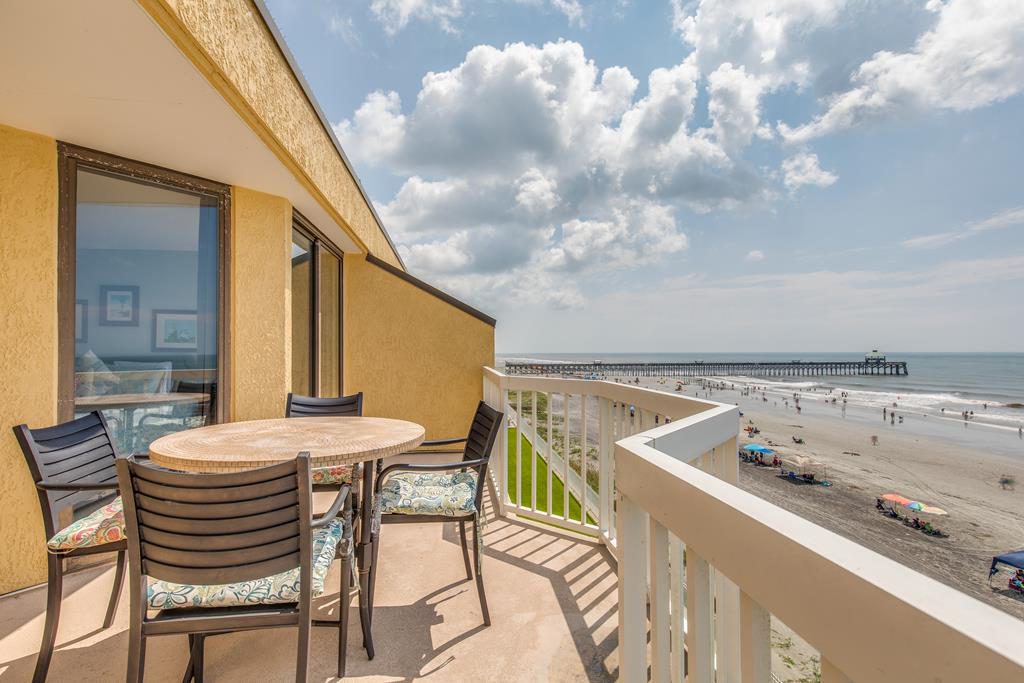 Our collection of rentals on ISLE OF PALMS, in addition to the nearby islands of FOLLY BEACH and SULLIVAN'S ISLAND, provide you with tons of incredible choices for your family beach trip. Our rentals feature new renovations, flawless decorations, ocean views, and special amenities to ensure you have a top-notch comfortable stay. Plus, our concierge team can help you plan your trip every step of the way.  
Start planning your Charleston getaway by browsing our VACATION RENTALS. We look forward to welcoming you to the Lowcountry!