When you're on vacation, food isn't just a necessity. It's an experience! Dining at some local hot spots while you're on vacation is one of the best ways to truly get to know an area, especially on the Charleston Coast. Here are some of our favorite Folly Beach restaurants to try during your getaway!
7 of Our Favorite Restaurants on Folly Beach
1. Jack of Cups Saloon
There's no place like Jack of Cups. This small eatery is easy to miss, but once you know it's there, you'll want to come back for more. The menu offers an eclectic mix of Asian, Indian, and other global flavors. You can come back over and over again and get something different every time– it changes often based on the ingredients that are in season. You'll always find some type of macaroni and cheese on the menu, but it always has a twist– the green curry mac is one of our favorites!
2. Lost Dog Cafe
Lost Dog Cafe is a staple on Folly Beach. This cozy spot serves breakfast all day along with sandwiches and wraps. We're partial to their huevos rancheros, but we've never had anything from their menu that we didn't like! You'll love grabbing lunch here after spending the morning at the beach.
3. Taco Boy
What's better than sipping a frozen margarita after a day in the sun? Taco Boy is known for delicious Mexican and drinks. We recommend splitting some chips, salsa, guacamole, and queso with the table before ordering a few tacos. If tacos aren't your style, you can get platters, salads, and quesadillas, too!
4. The Crab Shack
Seafood lovers rejoice! The Crab Shack will serve you seafood by the bucket– literally. Get a bucket of steamed oysters for the table before indulging in the wide array of seafood dishes. If there's a picky eater in your group that doesn't like seafood, there are a few BBQ options!
5. Chico Feo
Chico Feo's funky island vibes and delicious, cost-effective food will keep you coming back for more. The dishes here have many different influences, but mostly it's the Caribbean. The owner spent 12 years in the Caribbean and wanted to bring those flavors to the Charleston Coast. He succeeded, and now we have Chico Feo!
Waterfront Picks
6. Pier 101 Folly Beach
Pier 101 is the ideal spot to enjoy delicious cocktails, beers, and Lowcountry seafood! Relax and listen to the waves crash on the shore! The team at Pier 101 is dedicated to bringing back the old charm of Charleston beach life through quality service and a vintage atmosphere! You'll feel like you've stepped into a simpler, more flavorful past!
7. BLU
Blu is Folly beach's must-do for oceanfront dining! This restaurant serves local seafood and regional cuisine in a refreshing atmosphere. Blu is one of the only waterfront dining experiences, so be sure to add it to your itinerary!
Book Your Getaway Today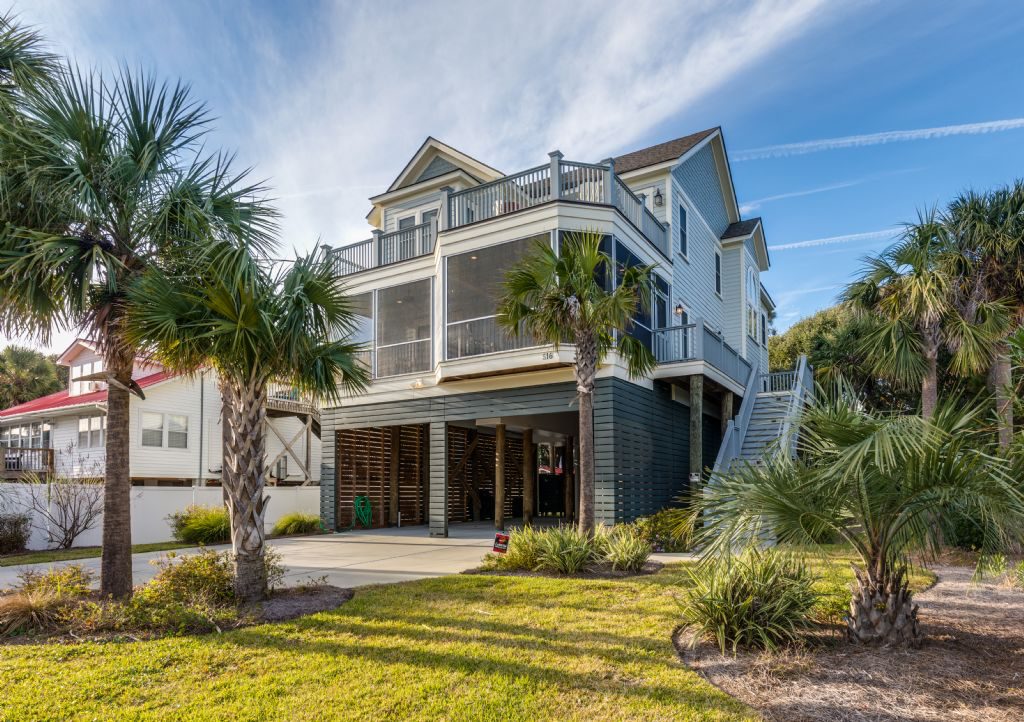 Are you ready to try out all these Folly Beach restaurants? Book your stay with Charleston Coast Vacations! We have vacation rentals all over the Lowcountry. Choose to stay on Folly Beach for easy access to these incredible eateries or opt for Isle of Palms, another island just an hour away from Folly. We can't wait to host you!