Everyone enjoys an evening of great food, friends, and family. Why not combine all of those in an unbelievable setting on your Lowcountry vacation? Sullivan's Island is the perfect place to sample excellent cuisine, enjoy a fun happy hour, or relax with your family after a day on the beach! Our list of the best Sullivan's Island restaurants breaks down five of the top places to eat in this slice of paradise.
If you want to discover more ways to make the most of your Charleston beach trip, be sure to access our complimentary Vacation Guide! It's full of other great local restaurants plus the best shopping, things to do, and more in the Lowcountry.
Here Are Our Favorite Restaurants on Sullivan's Island 
Sullivan's Island restaurants are very popular, especially during high tourist seasons. You can expect long wait times during evening weekends. We recommend arriving early or calling ahead if you have a large group. Grab a local beer or cocktail from the bar while you're waiting and soak in the beautiful Carolina sky!
1. The Obstinate Daughter
The Obstinate Daughter is a local favorite and one of the best Sullivan's Island restaurants. The nautical-themed interior gives it a relaxed yet elegant ambiance that you won't find anywhere else in the area. You can't go wrong with anything on the menu, but their pizzas and pasta are the top of the line. Don't forget to try their Geechie fries as well!
Local Tip: You'll want to book your reservation here as far in advance as possible because this place books up months in advance during summer. However, that should be enough to convince you of how good it really is!
2. Mex 1 Coastal Cantina
Tacos and award-winning margaritas are the highlights of this Sullivan's Island hangout. Mex 1 Coastal Cantina offers fresh Baja Mexican cuisine in a bright and vibrant setting. Walk straight from the beach to your table in minutes and savor fresh guacamole, bangin' shrimp tacos (a favorite), and a jalapeño margarita.
Local Tip: They often host events like trivia or comedy nights. Be sure to check out their events schedule for some fun within walking distance to your beach house.
3. Poe's Tavern
If you're searching for a casual place to grab one of the best burgers in the Charleston area, look no further than Poe's Tavern. This eclectic local dig features quirky décor centered around poet Edgar Allan Poe and his many famous works. Trust us; you won't want to miss out on one of their juicy award-winning burgers with a delicious side of fries and a local brew. For vegetarians, they also make arguably the best black bean burger in the Lowcountry.
Local Tip: If one of the reasons you love Charleston or want to visit is the history, this is the restaurant for you. It is a truly unique establishment that people from across the state know and love.
4. Home Team BBQ
Delicious smoked meats steal the show at Home Team BBQ. This is our favorite of the three local joints around Charleston, and it's the perfect place to indulge in a rack of ribs, brisket, pulled pork, sausage, and a variety of savory sides with an ice-cold beer.
Local Tip: Of course, Home Team cooks up some tasty BBQ, but locals know they make even better drinks! You can't go wrong with any of their cocktails, but the Game Changer truly lives up to its name. It's a sweet and flavorful frozen beverage that will have you thinking you're in the Caribbean.
5. The CO-OP
The Co-op is one of the most amusing Sullivan's Island restaurants. They offer quick bites for breakfast, lunch, and dinner like salads and sandwiches throughout the day, but their frosé (frozen rosé) is what draws people in time and time again. Grab a cup to go with your sandwich, or head there to pick up an entire bottle for dinner!
Local Tip: Like we already mentioned, you have to try the frosé! It's the perfect beach beverage. There offer great options for vegetarians like the veggie sammie and Caprese panini.
6. The Longboard
With a light and healthy seafood menu, The Longboard has become the perfect addition to the Sullivan's Island culinary scene. Executive Chef Will Fincher makes a point to cook with fresh, local seafood and ingredients. The menu features a raw bar, craft cocktails, and a few but delicious options for entrees.
Local Tip: We recommend visiting during their Oyster Hours. Every day from 3 p.m. until 5 p.m., they have a great deal on their raw and grilled oysters plus some happy hours specials on drinks.
Book Your Charleston Coast Vacation Property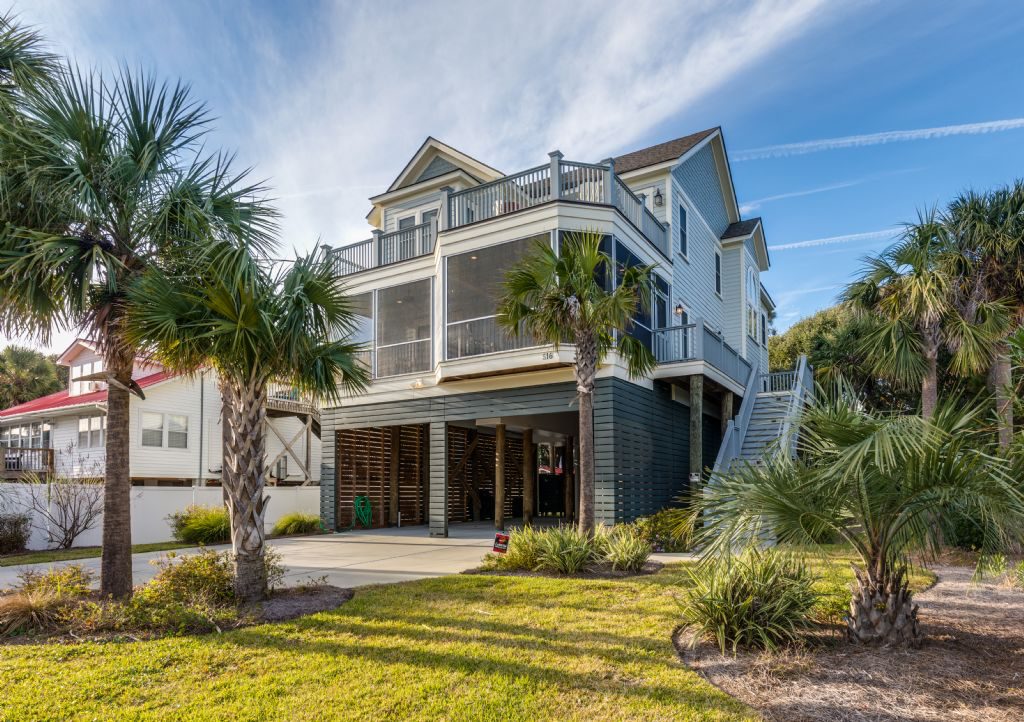 Our collection of rentals on Sullivan's Island, in addition to the nearby islands of Folly Beach and Isle of Palms, provide you with tons of incredible choices for your family beach trip. Our rentals feature new renovations, flawless decorations, ocean views, and special amenities to ensure you have a top-notch comfortable stay. Plus, our concierge team can help you plan your trip every step of the way.
Start planning your Charleston getaway by browsing our vacation rentals. We look forward to welcoming you to the Lowcountry!