Because of its mild weather year-round, the Lowcountry always has something going on! Between Downtown Charleston and the surrounding cities and towns, you're bound to visit during a fun festival or attraction. We've rounded up all th best events in Charleston, SC that you won't want to miss!
Thinking of visiting Charleston? Check out our complimentary VACATION GUIDE for a list of the best things to do and see here!
11 Events in Charleston, SC You'll Come Back For Every Year
1. Flip Flop Drop
You probably know about the ball drop in Time Square to mark the New Year. Well in true coastal fashion, Folly Beach drops a giant pair of lighted flip flops to celebrate the start of the year. For the Folly Beach Flip Flop Drop, the town shuts down Center Street and turns its main strip into a festival space. The giant flip flops are hoisted up at 9:30 p.m. and drop at midnight with a fireworks display following. During the time in between, there is a DJ, live music, and family-friendly activities to enjoy. Many of the bars and restaurants on Folly stay open later than usual, so you can continue with your celebrations.
2. Taste of Folly
Every year in January, Folly Beach turns into a foodie's haven for Taste of Folly. The annual event is set up festival style with food vendors serving up some of the best food in the Lowcountry. There are tons of traditions that festival-goers look forward to every year. The chili cookoff and hotdog eating contest are fan favorites, and the kids will love the carnival games. Grab a drink and a bite to eat, then make yourself comfortable by the stage to listen to live music. This is definitely one of the most anticipated events in Charleston, SC!
3. Lowcountry Oyster Festival
Oyster season in South Carolina is six months long, so there are tons of oyster roasts and events across the state between the months of September and April. One of our favorites is the Lowcountry Oyster Festival hosted by Boone Hall Plantation & Gardens. The seven hours event is full of oyster shucking, live music, contest, and more fresh seafood! The festival benefits The Ronald McDonald House, Hollings Cancer Center, Shriners Hospitals for Children, and Charleston County Schools Science Materials Resource Center.
4. Spoleto
For 17 days, the theaters, churches, and outdoor spaces of Downtown Charleston are brought to life with incredible performances for Spoleto Festival USA. The international event celebrates performing arts by both renowned and upcoming artists in dance, opera, theater, and music. The music selections include choral, symphonic, chamber, and jazz.
5. Charleston Riverdogs
The Charleston Riverdogs is a Minor League Baseball team based in the Lowcountry. Their season runs from April until September giving you plenty of time to enjoy a game during the spring and summer months. The games are fun for the whole family with drink special for the adults and a bouncy castle and face paint for the kids. The Riverdogs have made quite a name for themselves too after they became the 2021 Low-A East Champions!
6. 4th of July Dinner Cruise
There is so much fun to be had during the summer in Charleston including the 4th of July Dinner Cruise. Cruise around the Charleston Harbor on Independence Day abord the Spirit of Carolina. The entire event is three hours long and features a four course meal, cash bar, and expansive views of the fireworks from Patriots Point.
7. Party at the Point
Party at the Point is a Happy Hour concert series takes place Friday evenings during the summer. The Charleston Harbor Resort and Marina hosts the family-friendly event on its beachfront. It's a great time to enjoy Charleston's beauty, some live music, and delicious eats and drinks!
8. Charleston Turkey Trot
The Charleston Turkey Trot, also known as the Turkey Day Run & Gobble Wobble 5K, has been a Lowcountry tradition for more than 100 years! The event is a 5K run on Thanksgiving Day through Downtown Charleston.
Because of its long history, this is easily one of the most beloved events in Charleston, SC. Run the race in the morning and don't feel guilt when you eat you Thanksgiving feast!
9. Folly Beach Christmas Parade
The Folly Beach Christmas Parade is your classic small town Christmas parade but with some coastal flair. Every year, locals and visitors gather along the sides of Center Street to see floats and colorful holiday displays pass by. Your kids will love getting candy and treats handed to them from the floats!
10. Mount Pleasant Christmas Parade
The Mount Pleasant Christmas Parade is another classic parade but it takes place in the evening, typically 5:30 p.m. to 8:00 p.m. It runs along Coleman Boulevard for a little over a mile. You're sure to have a night filled with twinkling lights, waving local leaders, and gorgeous floats.
11. Charleston Reindeer Run
The Charleston Reindeer Run is a 5K race for the enitre family! The events features a Holiday costume contest with four categories: adult individual, child individual, group, and dog. The route takes you through historic Charleston, and even if you don't want to run, the race is still a site to see!
Choose Charleston Coast Vacations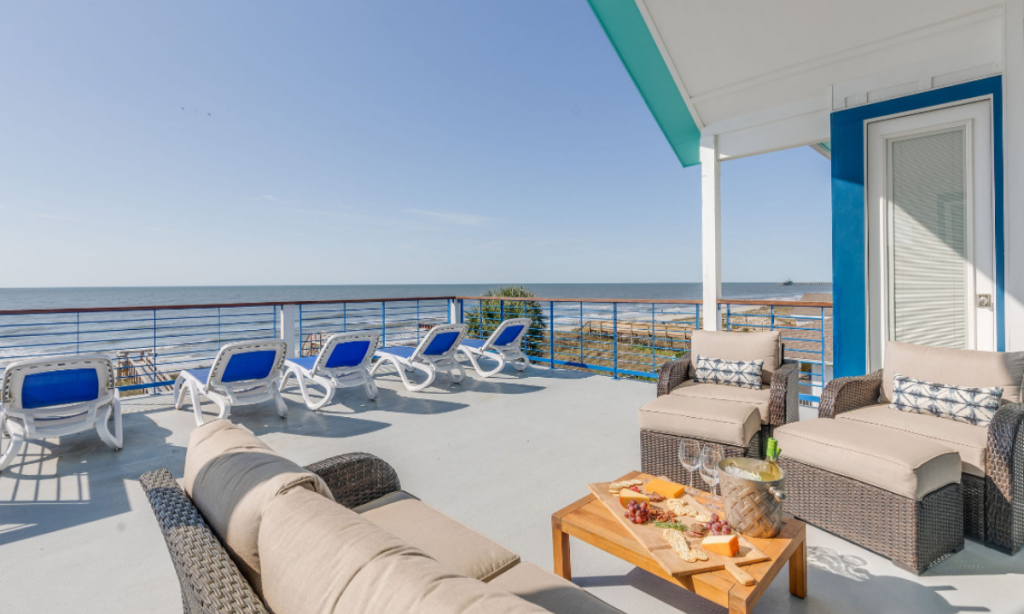 Now that you know what events in Charleston you want to attend, its time to plan your trip! You'll feel right at home during your stay with Charleston Coast Vacations. Each of our vacation rentals has everything you need for the getaway of a lifetime, and what's better than getting a historic city full of event plus staying near the beach? Participate in our Lowcountry traditions, enjoy your vacation rental by the ocean, and make memories that will last a lifetime.
BROWSE OUR PROPERTIES to start planning your stay today!