Those that have fallen in love with Charleston, South Carolina, will say that there is no bad time to visit. Of course, we agree! The Lowcountry is charming during any time of the year. However, if there are specific things you want to do or see, you'll want to base the best time to visit Charleston off of that. We are always happy to help you choose the best time for your vacation, so don't hesitate to reach out!
After you choose your best time to visit Charleston, it's time to start planning your getaway! We created this complimentary Destination Guide to make the planning process a breeze. Inside, you'll find a list of our favorite things to do and see in the area.
Charleston in the Summer
If you're looking for blazing sun and plenty of activities, the summer is certainly for you! Charleston summers are full of fun in the sun. You'll spend most of your time at the beach, in the pool, and exploring the countless outdoor activities that are available here. This is one of the most popular times for families to visit the coast, because children have the summer off of school.
Summer Weather
Charleston summer weather is consistently in the 80s and 90s, especially when you take into account the humidity. The sunny days make it perfect for a beach vacation! Thunderstorms are common in the afternoon, but these offer a welcomed respite from the blaring sun. Go back to your vacation rental, take a nap, or sip on a refreshment for an hour or two while it storms. Then, get back to your summer activities!
3 of Our Favorite Things to Do in Charleston in the Summer
The list of things to do in Charleston in the summer is endless! We could go on and on with our recommendations, but we will give you a summarized version this time. As always, please feel free to reach out if you have any questions or would like more recommendations from the team!
1. Hit the Beach
Of course, hitting the beach is a given during the summer. Many of our rental homes at Charleston Coast Vacations come with a credit for beach gear, so you won't even have to worry about lugging your umbrellas and chairs along with you on vacation.
2. Charter a Boat
There's nothing better than getting out on the water during a Charleston summer. There are many boat charter options available. You can even take a sunset cruise around the harbor with the stunning sailboat, the Schooner Pride!
3. Visit a Farmers Market
Whether you're looking for some fresh ingredients for dinner or a unique souvenir to remember your trip by, you can find it at one of our area's many farmers markets that are open during the summer season.
Charleston in the Fall
As summer comes to a close, we welcome fall's cooler weather. Charleston in the fall is perfect for those that are looking to explore the city and don't mind missing a beach day or two. The beginning of the fall season is still very warm, and many Charlestonians still hit the beach well into October. One plus about coming in the fall is that it is much less crowded than the summer because school is back in session!
Fall Weather
While you can get days that are still in the 80s, Charleston's fall weather is usually in the 70s. As winter gets closer, you can expect a mix of days in the 60s and 70s. Mornings and evenings are crisp, and you'll welcome the occasional fire pit or outdoor heater at the restaurants around town.
3 of Our Favorite Things to Do in Charleston in the Fall
Because of the cooler weather, fall is an excellent time to sightsee and explore. From walks around the city to brisk morning jogs on the beach, fall is considered the best time to visit Charleston by many.
1. Explore Downtown
Pleasant weather means that it is the perfect time to explore the cobblestone streets of Charleston! You can spend hours taking in the gorgeous architecture and seeing all the historic buildings that line the streets. We highly recommend heading somewhere iconic like Rainbow Row to explore!
2. Visit a Fort
It feels good knowing you learned something new while on vacation. There's so much history here, and the fall is an excellent time to learn all about it. Head somewhere like Fort Sumter during your vacation!
3. Take Advantage of Rooftops and Patios
The rooftops and patios of restaurants and bars are always packed in the summer, but it calms down a bit during the fall. Great weather means that you'll want to be outside, and many of the outdoor dining areas have stunning views! Head to the Rooftop Bar at The Vendue for views of the city or to Shem Creek for waterside dining.
Charleston in the Winter
Winter is the quietest time to visit Charleston. If you're looking for a relaxing getaway away from the hustle and bustle of daily life, winter is a great time! Plus, there are often great travel rates during the offseason.
Winter Weather
Winter weather in Charleston is chilly, but you'll rarely see a day under 50 degrees. Temperatures hover in the 50s and 60s, but it is not uncommon to be in the 70s from time to time! You might get lucky and visit during a warm week.
3 of Our Favorite Things to Do in Charleston in the Winter
Just because it's a little chilly doesn't mean you can't put on a jacket and go outside! Here are some of our favorite things to do in Charleston in the winter.
1. See the James Island County Park Festival of Lights
There are tons of ways to get into the holiday spirit in the Lowcountry, but one of the most popular is the James Island County Park Festival of Lights. Start with the three-mile ride through the light displays, then head to the walking portion for even more lights and festivities. In all, you'll see more than two million twinkling lights on these displays!
2. Attend an Oyster Roast
Winter means oysters in the Lowcountry! There are multiple oyster roasts going on every weekend during the winter. Keep an eye out at local restaurants for special events, or you can go to an event like the Lowcountry Oyster Festival in January. 
3. Take a Tour
Winter is a wonderful time to take a tour! From carriage tours to walking tours, you can put on a jacket to stay warm and learn all about the rich history of our area.
Charleston in the Spring
Spring is stunning in the Lowcountry! The entire area ignites with a rainbow of colors as flowers begin to bloom. As the weather gets warmer, it becomes even more pleasant to be outside.
Spring Weather
We love Charleston's spring weather! Similarly to fall, temperatures range from the 60s to 80s. Local tip: Make sure you pack a wide variety of clothing since the temperature can vary so much.
3 of the Best Things to Do in Charleston in the Spring
1. Go to a Plantation
You'll love seeing everything in bloom at one of the many plantations in Charleston! We recommend going somewhere like the Magnolia Plantation, because they are known for their gardens.
2. Attend Charleston Wine + Food
Charleston Wine + Food is one of the most prestigious food festivals in the country. This four-day event brings some of the best chefs and mixologists in the world together to create the highlight of the spring!
3. Visit a Museum
If you're here on a chilly spring day, take that time to visit one of the many museums in the city. Whether you're looking to learn about our history or see some beautiful art, we have one for you!
Book Your Charleston Getaway Today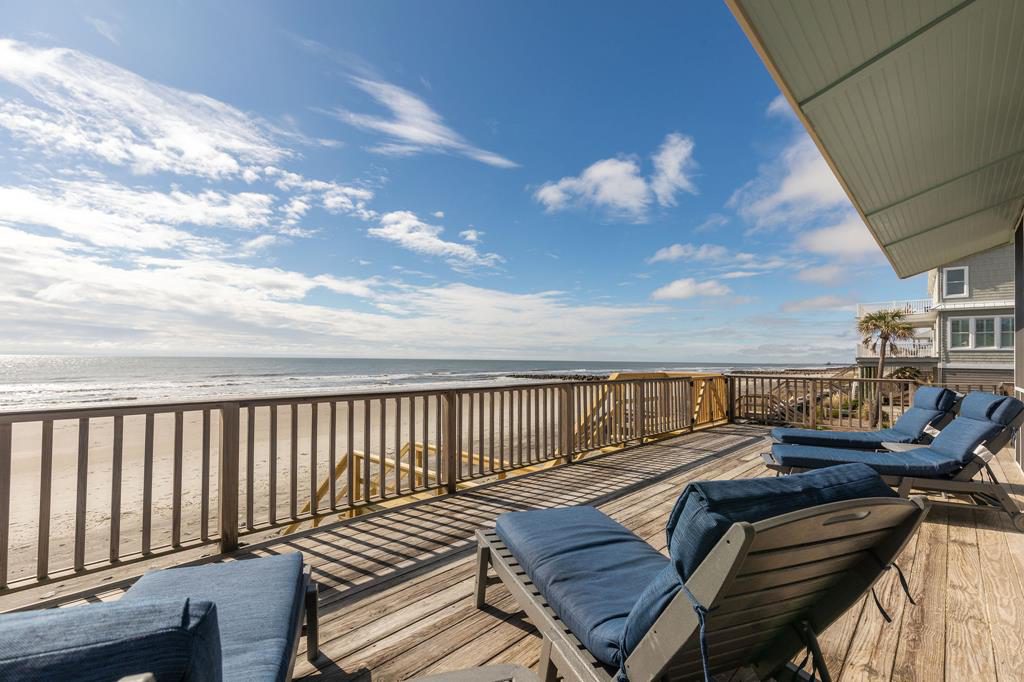 Now that you have chosen the best time to visit Charleston, it's time to book your stay. Don't settle for a boring hotel– stay in a vacation rental this year. Not only do vacation rentals have room for the entire family, but they will also make the Charleston Coast feel like home. Browse our properties at Charleston Coast Vacations, then book your getaway. We can't wait to host you!