It doesn't matter what kind of vacation you're looking for, the Charleston Coast is the ultimate destination for anyone getting away to the beach. Whether you want to be on the water or have a large group to accommodate, we're here to help you plan the trip you've been dreaming of. We've laid out three different South Carolina beach experiences to show you how the Lowcountry can meet all your needs and wants.
There are endless things to do around Charleston and its beaches! Access our complimentary DESTINATION GUIDE for a thoughtful list of our favorite restaurants, shops, and more!
3 of the Best South Carolina Beach Experiences
1. Family Experiences
Getting the family together and renting a beach house is by far one of the best South Carolina beach experiences. If you're looking for things to do during your family vacation, there's plenty to do that will please everyone from the kids to the grandparents. Paddle through the serene marshes and rivers of the Lowcountry while taking in the stunning landscape and getting a glimpse into the vast wildlife. KAYAKING is a favorite in Charleston among locals and tourists. Kids as young as four can paddle in a tandem kayak, so it's sure to delight and spark wonder in everyone in your group. If you're looking for some multigenerational family vacation ideas, golf is always a favorite! The Charleston area is also home to some spectacular GOLF COURSES. It's a sport that draws people of all ages with its beautiful surroundings and the challenge it provides.
2. Pet-friendly Experiences
Dogs love the beach and the great South Carolina weather just as much as their humans do! We offer dozens of pet-friendly vacation rentals on both Folly Beach and Isle of Palms from one-bedroom condos to six-bedroom homes. Most restaurants around Charleston that offer outside seating allow your furry friend to tag along. Both beaches are dog-friendly but do have some rules. IOP allows dogs on the beach year-round. In the county park, dogs must be kept on a leash at all times. However, if you're outside the park, you can walk your dog off-leash September 15 through March 31 from 4 p.m. until 10 a.m. and April 1 through September 14 from 5 a.m. until 9 a.m. Folly's rules are a bit more strict. October through April, leashed dogs may run, walk, fetch, and swim any time of the day. From May through September (summer season), dogs are not allowed to go on the beach from 10 a.m. to 6 p.m.
3. Recreational Experiences
It doesn't matter if you're into watersports or playing on world-class golf courses, South Carolina beaches offer tons of recreational opportunities. We already told you about some of the great kayaking and paddleboarding around the Lowcountry. There are also opportunities for other activities on the water like surfing, kiteboarding, boating, and more! If you're staying on IOP, TIDAL WAVE WATER SPORTS is a great place to start. It offers just about everything fun you can do in the water. Rent a jet ski, charter a boat, go parasailing, try wakeboarding, let the kids enjoy some tubing, or take one of their many tours. The town facilities along with Wild Dunes also boast tons of tennis courts and two golf courses. Folly Beach is a great place to throw in a line whether it be off-shore or from the pier.
Endless Possibilities Are Waiting for You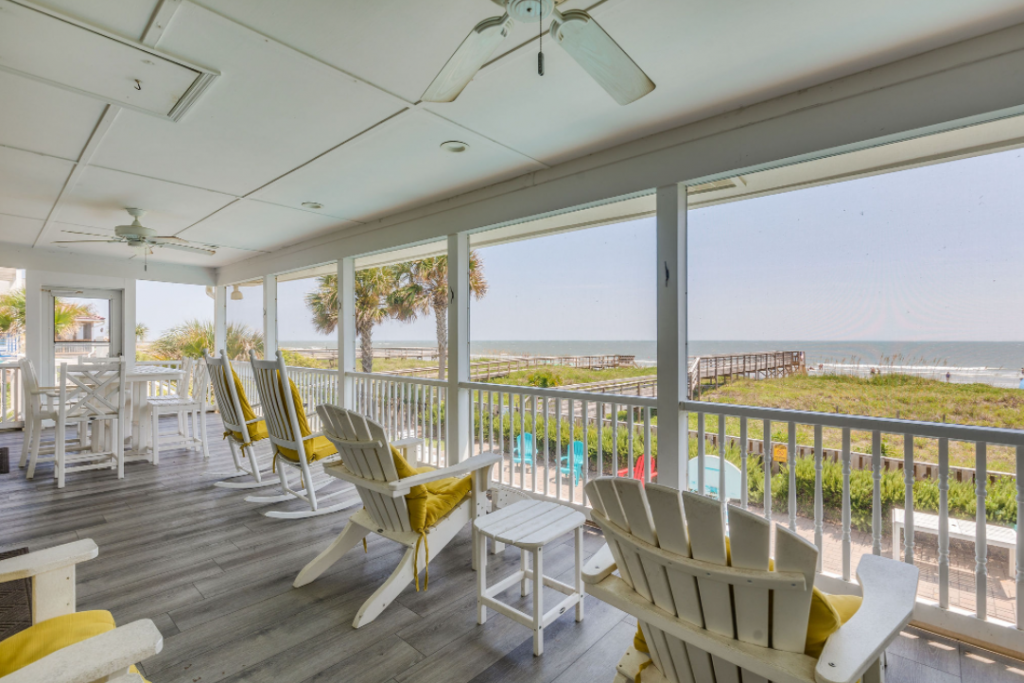 With more than 150 vacation rentals across Folly Beach and Isle of Palms, we're sure to have a property that has everything you and your group needs and more! That means we offer one-bedroom condos, five-bedroom homes, and everything in between. And if you're looking for something right on the water, more than half of our properties are oceanfront. Our rentals feature new renovations, flawless decorations, ocean views, and special amenities to ensure you have a top-notch comfortable stay. Plus, our concierge team can help you plan your trip every step of the way.
Start planning your South Carolina beach experiences today by browsing our VACATION RENTALS. We look forward to welcoming you to the Lowcountry!