Planning a trip to Charleston, South Carolina is always an inspiring choice for travelers looking to enjoy an unforgettable vacation. Here, it's as easy to spend time on the sand as it is to indulge in amazing dining options, check out boutique shops, or hop from one gallery to the next. While the cobblestone streets are charming, downtown Charleston is bustling with vibrant options for fun and entertainment. Outdoor experiences are truly exceptional in Charleston, but if you happen to be a history, find yourself in town on a rainy day or you're looking for an educational twist for a trip with the entire family, there are plenty of historical landmarks well worth checking out. Among them is the Charleston Aircraft Carrier. This exciting stop brings history to life in style and puts your right in the heart of the Charleston Harbor experience.
Everything You Need to Know About the USS Yorktown, the Most Famous Charleston Aircraft Carrier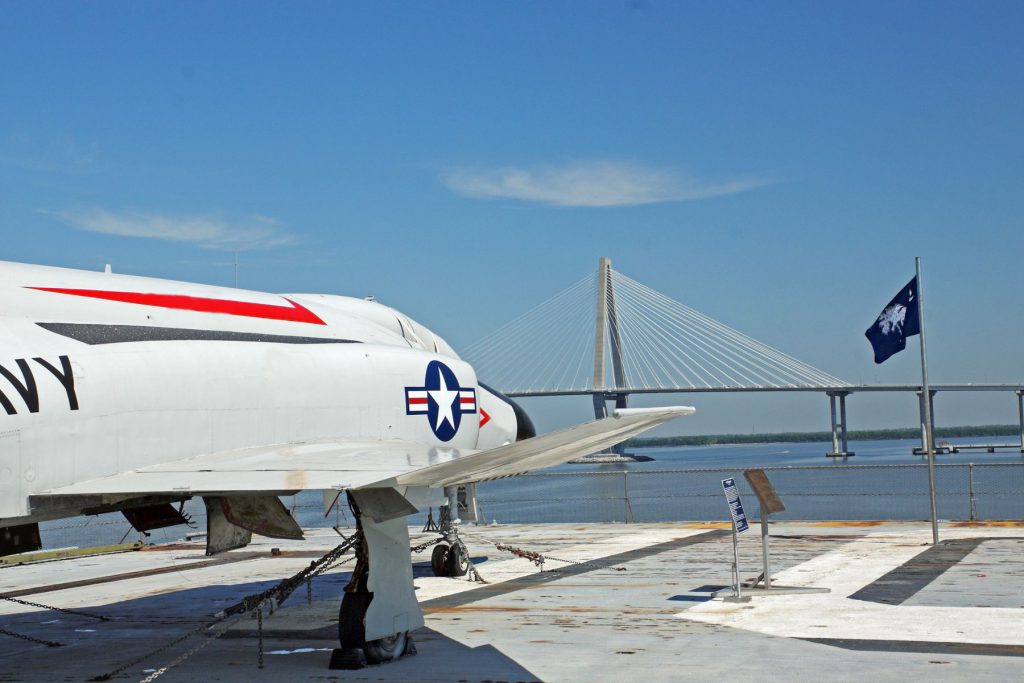 Infuse History into Your Visit
The Charleston aircraft carrier, officially known as the USS Yorktown aircraft carrier, is located within the greater Patriots Point Naval & Maritime Museum. This destination was opened in 1976 and was designed as a space to educate visitors on wartime history and the resources and aircraft that are part of those battles. The USS Yorktown aircraft carrier was used by the U.S. Navy during World War II and repurposed for battle once again during the Vietnam War. Today, it is very much the centerpiece of Charleston Harbor attractions and sits alongside other historic ships, a Medal of Honor Museum, and a recreation of a navy base used in Vietnam complete with a fire control bunker, mess hall, and river boat patrol.
What to Expect During Your Visit
Touring the aircraft carrier is both educational and exciting for guests. Signing up for the captain's tour is a sure way to get the most in-depth experience possible. As you walk through the aircraft carrier, you'll learn more about its placement as the 10th aircraft carrier to serve in the U.S. Navy. Your guide will give you insight into this Essex-class carrier that was constructed over the course of 16.5 months total. The carrier was modernized for jet aircraft in the 1950s and was designated as an anti-submarine aircraft carrier in 1957. In 1975, the aircraft carrier was moved to Charleston and officially became part of the Patriots Point Naval & Maritime Museum experience. It's 888 feet long and when it was in use, could travel at a speed of over 30 knots for 14,000 nautical miles.
Plan Your Experience At This Famous Charleston Aircraft Carrier
The Charleston aircraft carrier experience is located at 40 Patriots Point Road and you'll want to set aside at least 2 hours to make the most of the fun. Admission includes access to three historic ships, the museum, and the Vietnam Experience alike. The museum is open year-round and adults can enjoy time here for $27 a person while kids 6 to 11 can visit for $16. Children under the age of 6 can tour the aircraft carrier for free. There's also a gift shop on-site to browse before you go if you're looking to pick up a souvenir to commemorate your visit.
Book Your Stay Today to Visit the USS Yorktown
Enjoy your getaway to Charleston and be sure you have amazing vacation rentals throughout Folly Beach, Sullivan's Island, and Isle of Palms.