Whether you're thinking about relocating to South Carolina's Lowcountry or purchasing an investment property, there are a lot of things to consider. From nearby schools to local attractions, we're breaking down everything you need to know about living in Charleston, SC. In this blog, we'll primarily focus on the towns along Charleston's beaches, Folly Beach, Isle of Palms, and Sullivan's Island.
We would love to help you find your dream home in Charleston. Contact us today at Charleston Coast Vacation, and we'll answer questions you have whether it be able real estate or property management.
Living in Charleston 101 for Someone Considering the Move
Folly Beach
Things to Do
Folly Beach is commonly known as one of the best beaches in South Carolina. The barrier island boasts a fun downtown, a laid-back vibe, and the best surfing in South Carolina. Plus, there are endless things to do on Folly. The pier is a favorite among locals and tourists alike for fishing and amazing sunsets. For surfing, the Washout area creates the best waves in the state. Hurricane Hugo destroyed an entire block of homes causing the area to have more intense winds than the rest of the shoreline. You can't miss it when you drive down East Ashley Avenue towards the Lighthouse Inlet. Speaking of, the Lighthouse Inlet Heritage Preserve is one of our favorite spots on the island just to relax and catch some dolphin swimming. For guests who'd like to explore the island and its wildlife up close, we always recommend kayaking or paddleboarding.
Restaurants
There are many tasty FOLLY BEACH RESTAURANTS to choose from! For a casual spot with seafood cooked however you like it, THE CRAB SHACK offers seafood by the bucket, a raw bar menu, and so much more. BLU provides a great oceanfront dining experience. The menu will satisfy any surf and turf cravings you might be having from scallop risotto to filet mignon. Looking for a margarita after a day at the beach? TACO BOY serves typical Tex-Mex cantina fare along with great drinks and a beachy vibe. Some dog-friendly restaurants include CHICO FEO, JACK OF CUPS SALOON, and LOST DOG CAFE.
Grocery Stores
The only grocery store on Folly Beach is Bert's Market. The local favorite stays open 24/7, so you never have to go far to get what you need. If you're looking for a larger store, there is a Harris Teeter less than three miles away on James Island. To stock up the liquor cabinet, Folly Beach Red Dot is next door to Bert's Market.
Schools
Students that live on Folly Beach attend James Island Elementary School, Camp Road Middle School, and James Island Charter High School.
Isle of Palms
Things to Do
This barrier island boasts miles of public beach, tons of recreation, and a cute downtown area. Much of Isle of Palms is known for Wild Dunes, a resort known for its oceanfront golf and amenity-packed communities. The resort is even a favorite among people living in Charleston looking for a staycation. The island also offers an incredible public park with parking, beach rentals, outdoor showers, dressing rooms, restrooms, and more. All of these amenities make IOP one of the best South Carolina beaches for kids. The downtown features many shops and restaurants to grab a souvenir and a bite to eat. Some of our favorite things to do on Isle of Palms are kayaking, enjoying water sports, taking a boat tour, and playing a round of golf.
Restaurants
Vacation is a time to try new foods and splurge on a meal or two, and eating out is one of our favorite things to do on Isle of Palms. From Southern cuisine to Tex Mex to seafood, ISLE OF PALMS RESTAURANTS serves up a lot for a small beach city! However, that's no surprise because the Lowcountry features some of the best food in the country. LONG ISLAND CAFÉ offers a changing daily menu with fresh seafood and incredible pasta. If you're looking for a simple comfort food, PAPI'S TAQUERIA serves up all kinds of tasty tacos. CODA DEL PESCE is your classic, quality Italian seafood restaurant but with a Lowcountry twist. For a killer Isle of Palms breakfast spot, SEA BISCUIT CAFÉ doesn't disappoint with favorites like pancakes, omelets, and of course, biscuits and gravy.
Grocery Stores
There are plenty of places to stock your pantry on Isle of Palms. Harris Teeter, New York Butcher Shop, Simmons Seafood, and Island Liquors are all located downtown. Hudson's Market and Marina Market are on the other side of the island within Wild Dunes.
Schools
Isle of Palms students attend some of the best schools in the Charleston area. The IOP schools are Sullivan's Island Elementary School, Moultrie Middle School, and Wando High School.
Sullivan's Island
Things to Do
Compared to Folly Beach and Isle of Palms, Sullivan's Isle is much smaller and known for being quiet. Many locals live in the beach community full-time, and there is a lot less tourism. Because it's known to be less crowded and is the closest beach to downtown Charleston, people living in Charleston flock to Sullivan's Island for a quick sunset walk on the beach or a delicious meal. The island may be small but is mighty when it comes to things to do. If you like history, check out the Fort Moultrie National Historical Park. The site was used during the Revolutionary War and offers views of Fort Sumer. Some other landmarks in the area include the Sullivan's Island Lighthouse, the Toi Morrison Bench, and the Edgar Allen Poe Library. With fewer people on the beach, Sullivan's is also a great place for watersports like kiteboarding.
Restaurants
Sullivan's Island is the perfect place to sample excellent cuisine, enjoy a fun happy hour, or relax with your family after a day on the beach. Local favorite THE OBSTINATE DAUGHTER offers a nautical-themed interior that gives a relaxed yet elegant ambiance that you won't find anywhere else in the area. Plus, you can't go wrong with anything on the menu. Tacos and award-winning margaritas are the highlights of  MEX 1 COASTAL CANTINA. If you're searching for a casual place to grab one of the best burgers in the Charleston area, look no further than POE'S TAVERN. Arguably the best Home Team BBQ is the one that calls Sullivan's Island home. THE CO-OP is an amusing restaurant with quick bites for breakfast, lunch, and dinner, but their frosé (frozen rosé) is what draws people in time and time again. 
Grocery Stores
Because Sullivan's Island is a small community, there are not any grocery stores. However, you can find Publix and Harris Teeter less than two miles away in Mt. Pleasant. You can also head to Isle of Palms to do your shopping.
Schools
Because Sullivan's Island and Isle of Palms are so close, students attend the same schools. Those schools are Sullivan's Island Elementary School, Moultrie Middle School, and Wando High School.
Let Us Help You Find Your Dream Home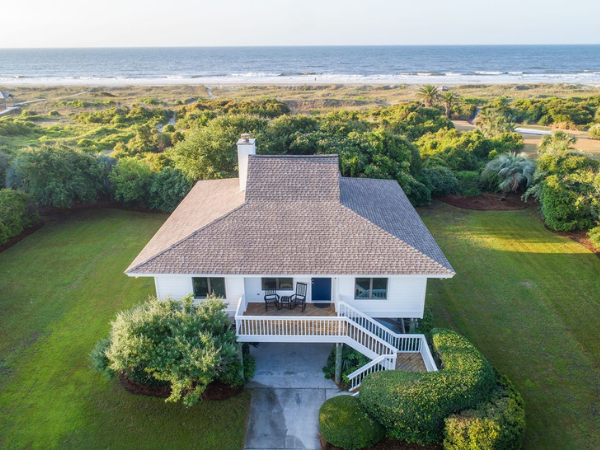 Whether you're looking for a beach house to settle down in or an investment property to beef up your income, we can help! We have decades of experience in the Lowcountry and are extremely in tune with the market. We focus on our owners' goals and optimize our strategies to ensure we align with their vision. Our team is second to none in the area and works tirelessly to make your vacation homeowner dream become a reality.
Whether you're just taking the first step or want to switch over from another company, Charleston Coast Vacations is here for you! CONTACT US today and learn more about our REAL ESTATE and PROPERTY MANAGEMENT SERVICES today!